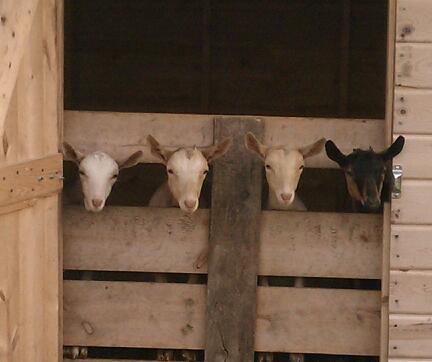 2 Comment(s)
/
by Shanna McCann
I have listed ten doelings for sale on Craigslist, and I have been rather shocked with the response.  Yesterday I answered questions in emails and texts all market long regarding the animals for sale.
Three baby girls left the barn today.
One mama, Nellie, is really missing hers. Her baby was a little mutant. Some of my goats have little neck jewelry (wattles) located just below their jawline on their neck. This little girl was born with her neck wattles placed right underneath of her ears. It looked like she had tiny earrings! She was super naughty, as she was small, and could easily squeeze through impossibly small spaces.
This little girl would end up inside the hay feeder, or at the top of the hay pile, content as could be.
She was Nellie's pride and joy.
She went to a good home today, where I'm confident the little girl and her family will love on her and provide safety and food.
Nellie doesn't know this. She just knows that her baby girl is gone, and stands calling and calling with her low, guttural call.  She calls, and then stands very still listening, hoping to hear her baby call back or come running.
It breaks my heart.
I know I have to downsize and get rid of animals, it's part of what I do as a farmer. That money I make from selling the babies helps offset some of the expense of having animals.
I told Nellie that her baby went to a good home, and I will just harden my heart every time I go to the barn.
I hope that she forgets quickly.
I hope she can forgive me.  
Ten wethers (neutered males) and slated to leave the barn in the next week or so; there will be more upset and heartache, and I am already anticipating tears on my part.  
So it is on the farm - joy and pain, cycles of life and harvest, hope and reality.