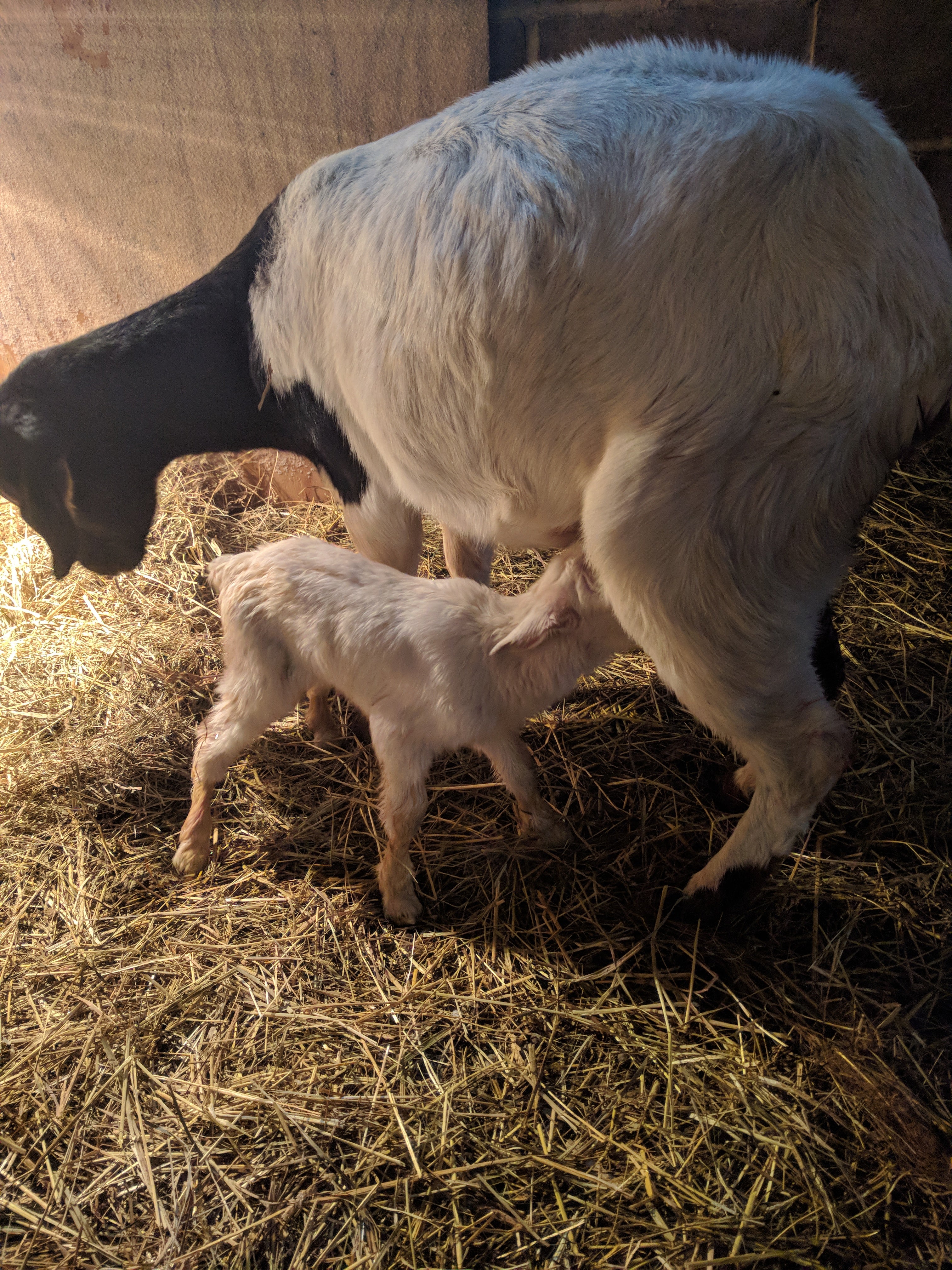 0 Comment(s)
/
by igoatsoap.com Admin
Everyone loves baby goats...they're so adorable!  I love their boundless curiosity, their enthusiasm for the most mundane, and the process of watching them grow.
This year, especially, I am so grateful for baby goats!  Here's the back story...
Last year I had ONE BABY GOAT.  Just one.  I should have had closer to 20 little fur babies dancing, prancing, and frolicking in the pen.  Annabelle joined the herd around Easter of 2018, the solo progeny of my buck, Dudley.
Dudley had opportunity to extend his lineage.  He didn't do it; he was a dud!  He was friendly, rather oblivious, handsome in his own way, but ineffective at his job. Dudley arrived on the farmette here late fall of 2017, with high expectations.  We were all new here; the girls and I had just moved in September.  They needed a boyfriend, and I needed goat milk for 2018 soap production, so Dudley seemed a good fit for the given situation.
Only one goat bred meant only one goat with milk, and Willie (short for Wilhemina) was it.  I elected to let her nurse her baby, Annabelle...and didn't get any milk to store in my freezers in 2018.
Fortunately, before I made my move in 2017, I was saving every drop of liquid gold I could get from the girls.  The universe knew what I needed long before I did!  I bought extra freezers and stockpiled that valuable white stuff like bees store honey.  
I still have about a freezer full left.  That's after a custom order of 1500+ bars, regular sales and growth, and inventory rebuilding going on now...
Studley arrived on the scene in August of 2018.  From the moment he hit the pen and said "hello" to the girls, he was on.their.business.  If you know what I mean.  I normally don't introduce a buck to the ladies that early in the season, but I was getting concerned about my milk supply at that point.  I knew that goat babies would be arriving in Jan/Feb with his early work schedule, but figured better cold (!!) in Jan/Feb than cold and wet in March/April (!!!!!).  
So.
Let's just say that the baby goats that have arrived are more than just cute entertainment.  They are my milk makers, my promise that I won't run out of the very basis of my business for making soap--goat milk.  It's a relief to see them born, thriving, and doing what all babies do.  Nurse.  Take milk from their momma's.  
I love baby goats.